Anna Karvounari
Anna Karvounari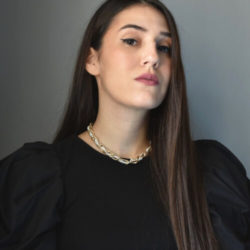 TIFA 2021 Interview with Anna Karvounari
Discovery of the Year, "Touches of Mystery"
Q: Tell us a bit about your background? How did you discover your love for photography?
I'm a self taught photographer based in Athens, Greece. My journey in photography started around 2015. It started as a hobby and as a mean of my personal expression. Besides that, I find that photography is a exercise in self exploration. After 7 years I have to admit that it has become my biggest passion.
Q: What was your last work and how did the initial spark of inspiration come about?
My last work was a self-portrait which depicts a female body with lungs made of flowers. I wanted to make a reference to climate change and its effects on human's life. The inspiration came from an artwork that I liked by an unknown artist and I tried to make my own handmade "flower lungs".
Q: You were awarded TIFA 2021 New Discovery of the Year for your incredible photograph, Touches of Mystery. Can you tell us a bit more about the technical background of this image?
This photo is also a self-portrait . It shows a face in motion while the lens has focused on colors of a piece of glass that I painted my self. Generally in my projects I try all my props to be real and not photoshopped.
Q: What kind of images do you enjoy taking most?
Through the last years I make exclusively self-portraits.
Q: What does winning this award mean to you?
This award means more than a simple distinction for me. It is a personal target which I managed to accomplish thanks to TIFA awards and I want to thank you for this opportunity you gave me.
Q: What would be your dream project in photography if there would be no budget limits and you could travel anywhere, photograph anything/anyone?
If I had the opportunity I would like to work on a project as Lara Zankoul's where she photographs characters in a "room" full of water.
Q: Which professional photographers have inspired you most?
The fact is that I love many photographers ,but I truly admire the work of Justine Tjallinks, Iness Rychlik and Lara Zankoul.
Q: Are you working on something new right now? Can you tell us a little bit about it?
I'm in the middle of a project which will be related to human's connection with mother nature. Hopefully I will have completed within next days and I hope you will like it.